Disposable Polypropylene Lab Coats
Published on 2018-6-14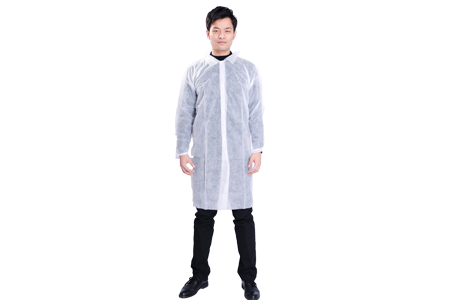 Disposable Polypropylene Lab Coats
Disposable Non Woven Lab Coat is a breathable spun bound material. Lightweight, Breathable, Liquid splash-proof, Comfortable, Antistatic,Durable. Protection from dry particulates, dirt and grime. Ideal for use in food processing facilities, Operating room, laboratory, food shop, food processing, dust workshop.
Color: White, Light Blue, Dark Blue, Red

Material: Polypropylene, SMS

Size: 105x135cm, 110x140cm,115x137cm, 115x145cm, 120x150cm or as customers' request

Weight: 20gsm, 23gsm, 26gsm, 27gsm, 28gsm, 30gsm, 35gsm, 36gsm, 38gsm, 40gsm, 45gsm

Style: Snaps/ Velcro Closure /Zip, Shirt Collar / Official Stand Collar / Knit Collar

Packing:
10 pcs/polybag, 10 bags/carton 10x10
10 pcs/polybag, 5 bags/carton 10x5
1 pcs/polybag, 100 bags/carton 1x100
1 pcs/polybag, 50 bags/carton 1x100
If you have any inquiry, pls feel free to call me on +86-15955142674 or by email at export14@chinadailyuse.com.