Disposable Polypropylene Bouffant Cap 
Published on 2018-6-1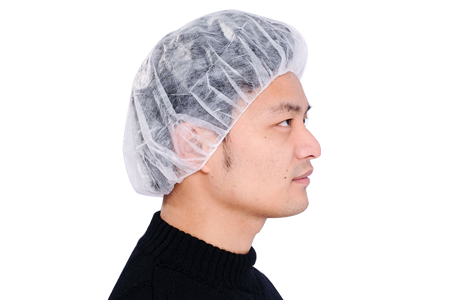 Disposable Polypropylene Bouffant Cap 
Made from 100% non-woven polypropylene. Round shape. Flexible and lightweight for ease of use Breathable, dustproof, and can better block dust and microbes. single use, clean, simple and convenient, effectively prevent bacterial infection. Long time wear is not tight and 100% Latex Free, there is no allergic reaction. Prevents dust particles from escaping from the head; also prevents external dust from entering the hair layer. Ideal for use in food hygiene, food processing and service, electronics industries, lab work, Medical facilities, and manufacturing.
Color: White, Blue, Green, Yellow, Red, Pink, Navy Blue or Customized

Material: Spunbond Polypropylene Non-woven


Size: 18", 19", 21", 24", 28"

Weight: 9gsm, 9.5gsm, 10gsm, 11gsm, 12gsm

Available style: With/Without Compress Packing

Packing:
100 pcs/bag, 10 bags/carton 100x10
100 pcs/bag, 20 bags/carton 100x20
100pcs/box, 10boxs/carton 100x10
100pcs/box, 5boxs/carton 100x5
If you have any inquiry, pls feel free to call me on +86-15955142674 or by email at export14@chinadailyuse.com.