Disposable PP+CPE Shoe Covers
Published on 2018-6-12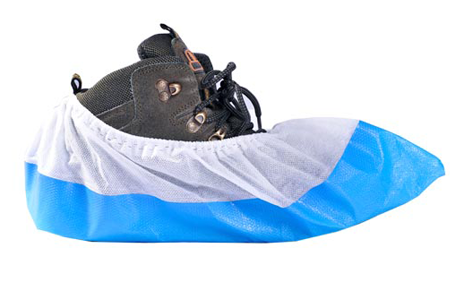 Disposable PP+CPE Shoe Covers
Disposable shoe covers is made from PP with CPE lamination material, Polypropylene material on the upper part and Compressed polyethylene material on the lower part. Breathable, durability, comfortable on the upper part. CPE-coated sole is durable, skid-resistant and waterproof properties. Elastic ankle strap style, Automatic machine made or use Sewing. Widely used for for Food industry, Food processing and service, food handling, manufacturing.
Color: White+Blue


Material: Polypropylene (PP) +Compressed polyethylene (CPE)

Size: 15x38cm,15x41cm,16x40cm, 17x40cm, 18cx40cm, 18cx41cm, 21x43cm, 24x48cm or as customers' request

Weight: 9gsm, 9.5gsm

Style: Handmade/Machine Made; Double Elastic/Single Elastic

Packing:
50 pcs/polybag, 10 bags/carton 50x10
10pcs/roll, 10rolls/polybag, 20bags/carton 10c10x20
If you have any inquiry, pls feel free to call me on +86-15955142674 or by email at export14@chinadailyuse.com.