Clear Powder Free Vinyl Glove
Published on 2018-6-7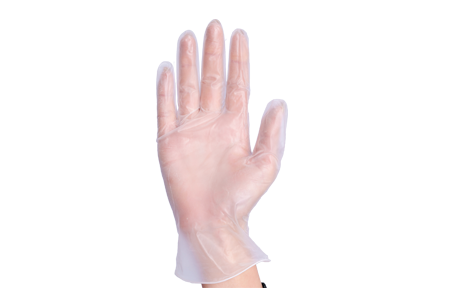 Clear Powder Free Vinyl Glove
Vinyl Glove made with no protein, No allergic reaction,A good alternative to those allergic products. Ambidextrous, Beaded cuff, smooth external finish,comfort and dexterity,Reduce the risk of tearing when wearing. Clear Powder Free Vinyl Glove have no holes on the surface of the gloves, and the colors are transparent, with no obvious ink spots or impurities. Disposable PVC Glove help protect food by providing protective barriers between hands and food. Widely used in food industry, food processing, home cleaning and home health.
Color: White, Blue


Material: High grade poly vinyl chloride(PVC)

Size: S, M, L, XL or as customers' request

Weight: 3.0gsm, M=3.5gsm, M=4.0gsm, M=4.5gsm, M=5.0gsm, M=5.5gsm, M=6.0gsm

Style: Powder Free

Packing:
100 pcs/flat box, 10 boxes/carton 100x10
50 pcs/flat box, 20 boxes/carton 50x20
If you have any inquiry, pls feel free to call me on +86-15955142674 or by email at export14@chinadailyuse.com.