Disposable Poly Apron
Published on 2018-6-4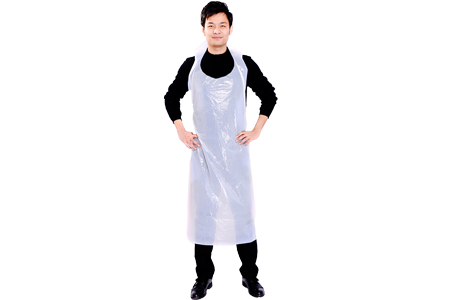 Disposable Poly Apron
Polyethylene Apron is made of 100% new Virgin Material. Hanging neck design to avoid the embarrassment of the shoulder strap. The design of the frenulum can make you feel free to use and use conveniently. Disposable Apron with Smooth / Embossed Surface Style. PE Apron widely used in food processing, beauty salons, hotel catering, family cleaning, medical chemistry inspection and so on.
Color: White,Blue

Material: Polyethylene

Size: 24"x42", 28"x46", 32"x49" or as customers' request

Weight: 5gsm-12gsm

Style:Smooth / Embossed Surface

Packing:
100 pcs/polybag, 10 bags/carton 100x10
100 pcs/polybag, 20 bags/carton 100x20
25 pcs/polybag, 40 bags/carton 25x40
100 pcs/box, 10boxes/carton 100x10
If you have any inquiry, pls feel free to call me on +86-15955142674 or by email at export14@chinadailyuse.com.