Pleated Bouffant Cap
Published on 2018-5-31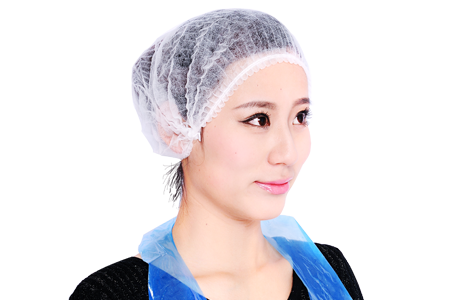 Pleated Bouffant Cap
Pleated Bouffant Cap High-quality new material non-woven fabric, environmental protection, non-toxic, non-irritating to the skin. Polypropylene material Breathable, anti-static, no deformation, clean, dust-free texture, clear dust bacteria. Prevent dandruff hair loss from escaping. Sanitary pleat bouffant cap keeps hair out of your eyes and away from your work. High-elasticity rubber band beam design, full stretch, not easy to pull off, non-woven fabrics, elastic feel soft and comfortable to wear. Double elastic have more strong than single elastic and are more resistant to tearing. The double ribs are compress packaging saving more space. Apply for food processing, dust-free workshop, electronics factory, Sterile Room Factory workshop, mechanical electronics, home cleaning, operating room, beauty care.
Color: White, Blue, Green, Yellow, Red, Black

Material: Spunbond Polypropylene Non-woven

Size: 18", 19", 20", 21", 22", 24"

Weight: 9gsm,10gsm, 11gsm,12gsm

Available style: Single / Double Elastic; With/Without Compress Packing


Packing:
100pcs/bag, 10 bags/carton 100x10
100 pcs/bag, 20 bags/carton 100x20
50 pcs/bag, 20 bags/carton 50x20
100pcs/box, 10boxs/carton 100x10
If you have any inquiry, pls feel free to call me on +86-15955142674 or by email at export14@chinadailyuse.com.