Disposable Bibs
Published on 2018-6-22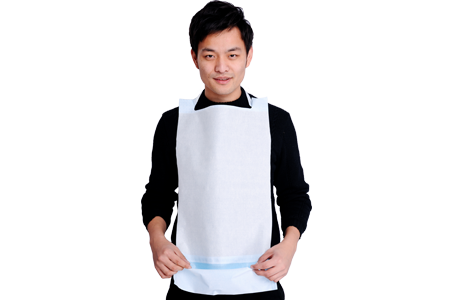 Disposable Bibs
Disposable bib are composed of one layer of wood pulp paper and one layer of Polyethylene film with a pocket at the bottom and with a tie on the back neck, embossed on the surface. Pure wood pulp paper has a strong water absorption, Tear-resistant. PE film can effectively prevent water leakage and other leakage, waterproof. Disposable Bibs are a great choice for restaurants, kitchen and dinner.



Color: White paper + Blue/White PE film

Material: Paper+Polyethylene

Size: 36cmx60cm, 36cmx64cm or as customers' request

Weight: 20gsm Paper + 16gsm PE

Style:Tie on style/Hole style


Packing:
100 pcs/polybag, 10 bags/carton 100x10
125 pcs/polybag, 4 bags/carton 125x4
If you have any inquiry, pls feel free to call me on +86-15955142674 or by email at export14@chinadailyuse.com.