Blue Powdered Vinyl Glove
Published on 2018-6-7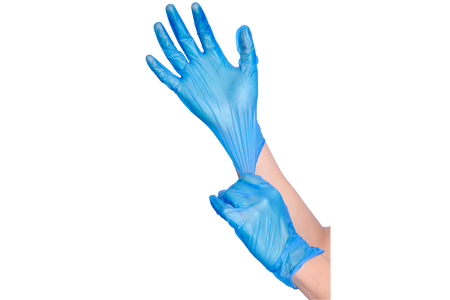 Blue Powdered Vinyl Glove
Powdered Vinyl Glove are stronger than polyethylene gloves. Lightly powdered vinyl glove with corn starch for easy wearing. Fits left or right hand. Easily slip on and off. work efficiently and ensure that your gloves are properly close fitting. 100% Latex free, suitable for those people allergic to latex. Suit for preventing cross-contamination, keep your hands clean. Poly vinyl chloride durable material resistant to oils, fats and grease and prevent them from tearing open during use. Widely used for food preparation, meat processing, food factories, catering applications, janitorial, housekeeping applications and sanitary industries.
Color: White, Blue

Material: High Grade Poly Vinyl Chloride(PVC)

Size: S, M, L, XL or as customers' request

Weight:M=3.0gsm, M=3.5gsm, M=4.0gsm, M=4.5gsm, M=5.0gsm, M=5.5gsm, M=6.0gsm

Style: Powdered with corn starch

Packing:

100 pcs/flat box, 10 boxes/carton 100x10

50 pcs/flat box, 20 boxes/carton 50x20




If you have any inquiry, pls feel free to call me on +86-15955142674 or by email at export14@chinadailyuse.com.