Polypropylene Disposable Beard Covers
Published on 2018-6-1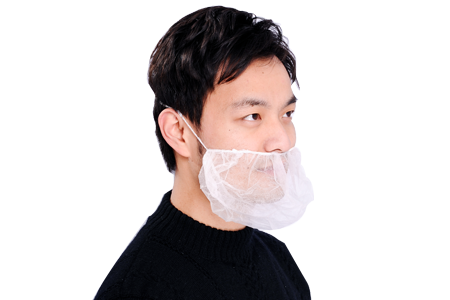 Polypropylene Disposable Beard Covers
Beard Nets are used to restrain hair. Hand made and machine made for food Hygiene Supplies. Beard restraints keep facial hair from becoming contamination. With breathable, dust-proof function, hanging ear type. Beard Covers Prevent the falling off of beards, effectively prevent dust, sew around the elastics, attach elastics at both ends of the band, environmental protection, degradable. Suited for Food handling and Food processing, Bakery, Clean room or other General Industry.
Color: White, Brown, Black


Material: Non-woven Polypropylene

Size: 16", 18"

Weight: 10gsm-16gsm

Design: Single / Double Elastic; With/Without Compress Packing


Packing:

100pcs/polybag, 10bags/case
If you have any inquiry, pls feel free to call me on +86-15955142674 or by email at export14@chinadailyuse.com.